Intimate Whitening and Grooming MarketPlace
We have compiled a great list of products that complement the intimate whitening process or are great skin and body care solutions that we either use or would love to try.
Grooming products
Kalo Hair Inhibitor
Tired of constantly shaving your legs, underarms or bikini areas? Use this highly rated product after waxing and you will stay smoother and free of unwanted hair for much longer! Note: It is suggested to use the lotion in sensitive areas such as bikini area or face and to use the spray version for larger areas such as legs or chest. See also the companion product below – Kalo ingrown hair treatment – perfect for stopping those nasty ingrown hairs after shaving or waxing.
Kalo Ingrown Hair Treatment
Kalo ingrown hair treatment is used to greatly decrease bumps and abrasions from shaving, waxing or exfoliating. Smooths and softens the skin and eases pain and discomfort after shaving or waxing. The ingrown hair treatment can be used on all parts of the body – it is suggested to spray on non-sensitive areas such as legs and rub into sensitive areas with a cotton ball or swab.

Home Waxing Kit
It is common knowledge that waxing provides not only smoother skin, but also greatly increases the time between hair removal treatments. Yes, it is more painful but many women and men are content with some discomfort during the process if they don't have to repeat the process of hair removal so frequently. Using a waxing method along with the Kalo hair inhibitor products above can keep your skin hair free for such long periods that you may never consider shaving again. Also, take a look at the powered epilators below for removing hair at the root from your legs, underarms and other areas easily and quickly. We will have an article all about home waxing on the site soon.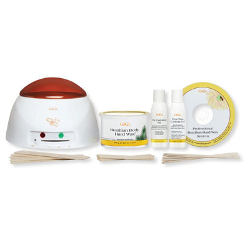 Epilator
What is an epilator you may likely ask? An epilator is like an electrically operated waxing kit for your legs, arms, chest and more. Instead of having razors or blades, an epilator has tiny tweezers, designed to pull the hairs out at the root, just like waxing would do. The benefits? An epilator is much quicker and far less painful, yet does the same job as waxing would do. An epilator will pay for itself very quickly when you consider the cost of a waxing session in a salon or the time you would spend to wax at home. An epilator is not meant for your sensitive areas like bikini line but will work wonders on all other non-sensitive body areas. Used along with a home waxing kit and Kalo Hair Inhibitor and Kalo ingrown hair treatment, you may literally forget the last time you had to touch your legs!
Numbing Agent for Waxing
Like the idea of waxing but afraid of the pain? You can now use a topical numbing agent to make your waxing experience much more enjoyable. We have chosen one of the best rated numbing agents with a very good price. Numb Master contains 5% lidocaine which will numb your skin so well some people can barely feel the waxing! Read some of the reviews and you'll soon be convinced just like me.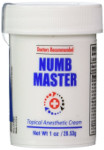 Numb Master Skin Numbing Cream